Popcorn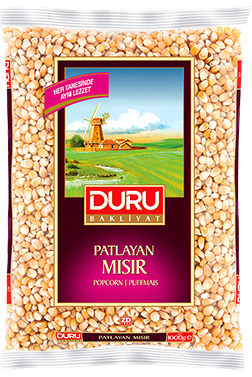 Popcorn is a yellow colored and hard corn type. It is only used to be popped. The variety used by Duru is butterfly popcorn which resembles a butterfly when popped. Another variety of popcorn is mushroom. Mushroom popcorns look like mushroom. With its 99% popping ratio, Duru popcorn differs in its flavor.
Origin: Turkey
Type of Meals the Product can be used in
*Snacks
You can visit www.durulezzetler.com for recipes including popcorn.
Packaging Available for the Product
Packing Size
Pcs in a box
Boxes in 1 pallet
Shelf life
500 g
12
140
2 years
1000 g
12
80
2 years
Serving size: 60 g
Nutrition facts are calculated on 60 g dry material, over 2000 kcal for adults.
| Nutrients | Amount | % Daily Value |
| --- | --- | --- |
| Calories | 181 | 9.1% |
| Fat | 2.3 g | 3.5 % |
| Carbohydrate | 35.1 g | 11.7% |
| Protein | 5.1 g | 10.2% |