Buckwheat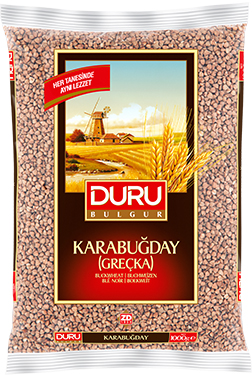 Unlike its name resembles, buckwheat is not a wheat product and it is not a grain. It is the seeds of a herb which can grow in hard climates. Buckwheat, which is from sorrel family, is grown mainly in Poland, Ukraine, Russia , Kazakhstan and China. Product is one of the staple food of Russian and East European people. The color of buckwheat is green. However if it is roasted, the color is light brown.
Origin: Kazakhstan
Type of Meals the Product can be used in
*Pilafs
You can visit www.durulezzetler.com for recipes including buckwheat.
Packaging Available for the Product
Packing Size
Pcs in a box
Boxes in 1 pallet
Shelf life
1000 g
12
80
2 years
Serving size: 60 g
Nutrition facts are calculated on 60 g dry material, over 2000 kcal for adults.
| Nutrients | Amount | % Daily Value |
| --- | --- | --- |
| Calories | 186 | 9.3 % |
| Fat | 1.0 g | 1.5 % |
| Carbohydrate | 37.8 g | 12.6 % |
| Protein | 6.6 g | 13.2 % |