Red Beans in Water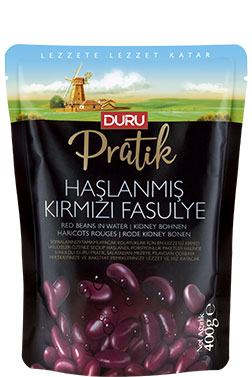 The best red beans were carefully selected and boiled to complement your meals. Presented in portion-sized packs. Duru Pratik – from salad to appetizer, from soup to pilaf –will add flavor and speed to every recipe and pulses meal.
Origin: Turkey
You can visit www.durulezzetler.com for recipes.
Packaging Available for the Product
Packing Size
Drained Net Weight
Pcs in a box
Boxes in 1 pallet
Shelf Life
400 g
220 g
8
160
2 years
400 g
220 g
16
80
2 years
Serving size: 100 g
Nutrition facts are calculated on 100 g dry material, over 2000 kcal for adults.
| Nutrients | Amount |
| --- | --- |
| Calories | 109 kcal |
| Fat | 0.8 g |
| Saturated Fat | 0.4 g |
| Carbohydrate | 10.8 g |
| Sugar | 0.3 g |
| Fiber | 10.6 g |
| Protein | 8 g |
| Salt | 1.2 g |